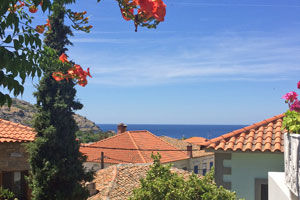 Lemnos has a quite big size and most of it is flat with low hills, especially the central and eastern part of it. On the west side there are mountains, the highest of it 430 meters about. In this area you will see a few small villages but the countryside is beautiful and totally unspoilt. You will see small rivers flowing between the mountains, trees and bushes, oleanders and lots of birds singing in the peaceful landscape ‐ Anta Mavrommati (environmentalist) can take you on one of her guided hiking tours to experience the relationship of man and nature on Lemnos Island.

Guided hiking trails
The golden colour of the dried wild plants on the hills and of the cultivated grain fields, dominates the landscape of the summer, which follows the green and colourful with flowers of the spring. Walking around through the path and country roads we see tiny settlements, shepherds, farmers.

Lemnos's famous products are the meat, milk products, well known cheese, thyme honey, excellent wines with international prizes, local pastry and very tasty bread products made by local flour. There are countless chapels on the hills, mountains, in the fields and near the sea, dating from hundreds of years back, to the modern times. Going really back to the ancient times, we find four very important ancient sites on Limnos with a history of 6.000 years about, which are Poliochni, opposite Troy, Kavirion with the cave of Filoktitis, Ifestia with its important theatre and the ancient Myrina, which is inside modern Myrina, as well as the impressive castle of Myrina with a history of at least 1.000 years and Kotsinas with its heroine Maroula.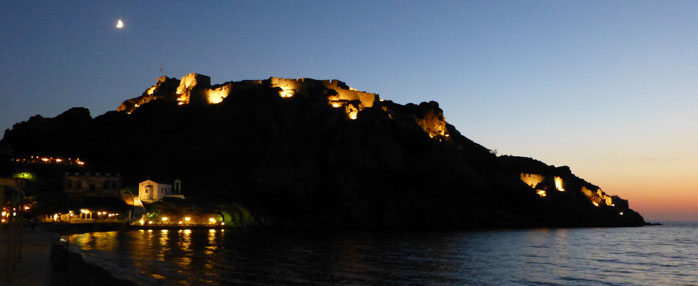 The archaeological Museum is a beautiful small neoclassical building, where you could see very important findings of the daily life and jewelleries. There is also a small nautical Museum, one of folkloric Art and in the beautiful village of Kontias, there is a gallery with paintings of painters from the Balkans. There are several "nature" areas, like the Keros bay, with the salt lake Aliki, the Hortarolimni and the Asprolimni where we find many birds also flamingos. There are also rocky coasts with impressive volcanic formations like the Faraklo, Agios Ermolaos etc.

What will surprise you pleasantly is the "little Sahara", hidden between the hills very close to the beautiful Gomati beach with the Sand dunes, well known as "the fat sands". Lemnos is blessed and possesses countless hospitable beaches with golden-red or very fine silver sand which offer plenty of room even in July and August. There are organised or less organised beaches and others totally … natural. You can enjoy many kinds of water sports and a nice nightlife.
We look forward to seeing you!