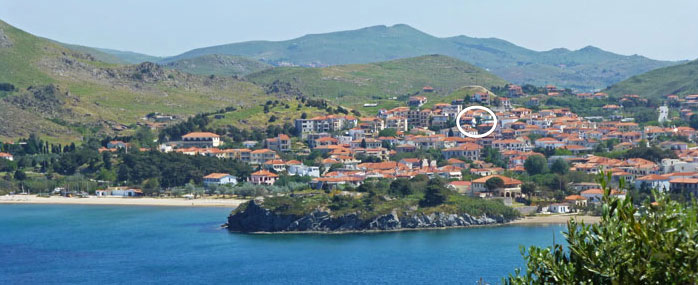 Walking through the garden of EFTERPI and leaving behind the peaceful Androni in 5 minutes you are at the cosmopolitan Riha Nera beach and Romeikos Gialos beach, the most well known promenade of Lemnos opposite Athos mountain, which offers fantastic sunsets with its impressive figure rising from the horizon to the west, like a huge pyramid. At the end of the busy and cosmopolitan street along the sea you can climb a few meters up to the castle and see its huge rocky size, the walls and the fortifications.
The busy and interesting market of Myrina, runs in parallel to the beach street and ends at the harbor, the other attraction of Myrina. Gate of the island for all the kinds of boats, taverns and café-bars complete the interesting life of the busy harbor. The distance from EFTERPI to the harbor is about 700 meters or a 15 minutes walk.
There is a small supermarket at 100 meters and a well known big one at 400 meters distance. EFTERPI hasn't got a private parking. The little picturesque square in the front offers some places. Very big cars should be parked 100 meters further, at the park of Androni, if possible.
We don't accept pets.