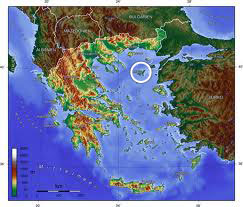 Lemnos island is located in the Northern Aegean Sea – it can be reached by airplane or by ferry.
By airplane
Thomas Cook offers direct flights from England to Lemnos – from all the other countries you have to choose a flight to one of the following destinations: Athens, Thessaloniki, Kavala or Mytilini. From there you continue your trip to Lemnos island by taking one of these airlines, which are www.olympicair.com (member of Aegeanair), www.astra-airlines.gr or www.skyexpress.gr. Our airport is about 16 kilometers far from Myrina and our studios.
(in the case you would have to wait for some hours before you catch the airplane to Lemnos, a visit to Athens is always interesting)
By ferry
You can reach Lemnos by ship from the following harbours in Greece:
(have a look at www.ferries.gr or www.hellenicseaways.gr and book your tickets online):
Kavala
Lavrio
Mytilini
If you come by car pay attention to making a reservation for your ferry to Lemnos, especially in the summer months July and August!
By car
More information about your trip or car rentals (for July and August it is also here recommended to make a reservation in advance) you can find here:
Pravlis Travel
Myrina Lemnos 81400
www.pravlis.gr
E-Mail: pravlis@otenet.gr
Tel. +30 22540.24446, 22471, 24617
Contact: Miss Antonia PRAVLI (pravlis@otenet.gr) and Mrs. Alkmini Architektonidi (pravlistravel@gmail.com)
Atzamis Travel
Myrina Lemnos 81400
http://www.gtp.gr/AtzamisTravel
E-Mail: atzamisk@otenet.gr
Tel. +30 22540.25690, 25936
Reservations: Mrs. Eleni KOUZINA and Mrs. Zoe KOBOLIA
Petrides Travel & Car Rental
Headoffice: 118 Karatza Street, 81400 Myrina
www.petridestravel.gr
E-Mail: petrides@otenet.gr
Tel. +30 22540.22039
+30 694 760 1516 (24h Service)
Contact: Mrs. Maria PETRIDOU
DESPOTIS – rent a car
Myrina Lemnos 81400
www.limnosrentacar.gr
E-Mail: info@limnosrentacar.gr
Tel. +30 22540.22139, 92213 (Livadochori)
+30 697 941 0421
Contact: Mr. Panagiotis DESPOTIS
Limnos Car Rental
Myrina Lemnos 81400
www.limnosrentacar.gr
E-Mail: limnostr@otenet.gr
Tel. +30 22540.23777
+30 6945 495 104 (24h Service)
Contact: Mr. Tasos HATZOGLOU
Have a nice trip!